Kiosk Reporting (KRS)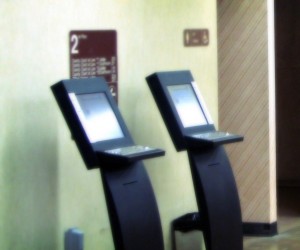 The Kiosk Reporting System (KRS) allows low risk defendants to report via kiosk rather than having to see a probation officer face·to·face. This allows for monitoring of behavior while freeing probation officers to concentrate their time on higher risk probationers. The KRS can include questions asked of each probationer (i.e.: Have you moved or have new contact information?) and program specific questions (i.e.: Are you following up with treatment?) are customized by person or program enrollment.
Probation officers can deliver custom messages to persons on Kiosk reporting and the person reporting is able to leave messages for the probation officer. Probation officers are notified, via email, if any answer from the report needs follow–up, for example, the person indicates a new arrest.
Features Include:
Integration with Probation Case Management System (enrollment, reporting, address changes, etc.)
Single report for multiple jurisdictions
Positive identification of the probationer
Quick and easy reporting, usually less than three minutes
Notifies probation officer of situations needing attention
Customized questions to the manage the reporting of individual probationers
Collection of payments
Capture scanned documents (i.e.: paystubs, program attendance sheets, etc.)
Sharing reporting results across jurisdictions
Active Lucas County Kiosk Site Locations and hours.
Call Us Toll Free! (877) 822-8178 or... to use our contact form.